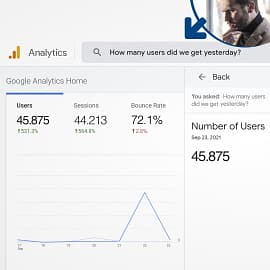 Die künstliche Intelligenz von Google Analytics ermöglicht uns einen neuen Weg unsere Resultate zu analysieren. Unten findest Du ein paar Fragen, die direkt Google Analytics gestellt werden können.
Frage Google Analytics!
Where is my traffic coming from?
How many users did we get yesterday?
How many new users did we get last week on mobile?
Why did my traffic drop?
Why is my bounce rate increasing?
What are the reasons revenue increase last week?
Is there a problem with paid search?
Percent of Direct traffic over time?
Average time on page for mobile vs desktop?
What share of sessions are from women?
Trend of new users this year vs last year.
Hier findest Du die vollständige Liste: https://lnkd.in/gNcWFrMi